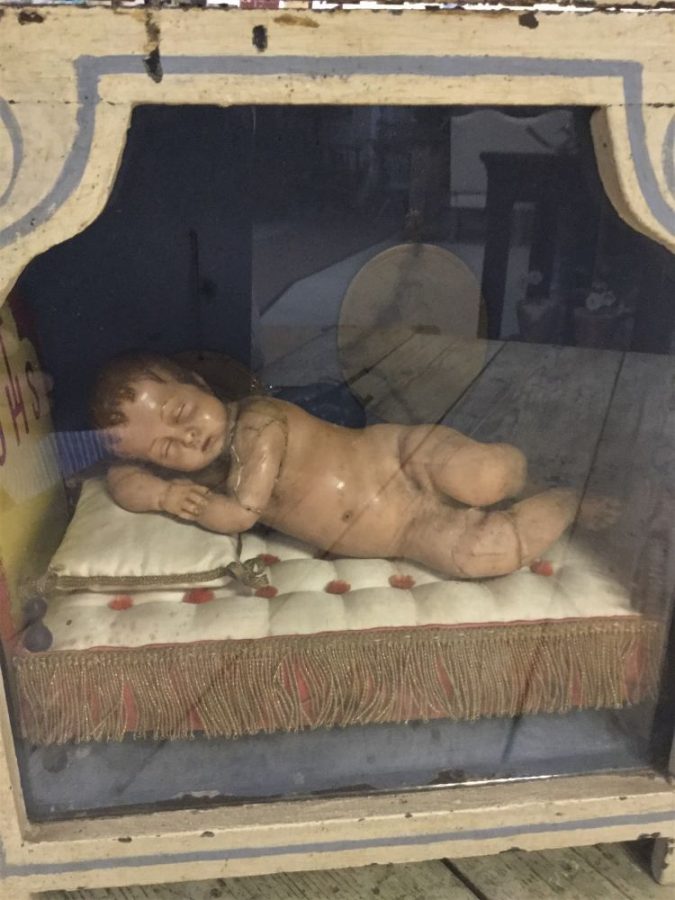 PRICE: SOLD
BABY JESUS
A scarce French late 19th Century reliquary containing a wax figure of baby Jesus, the pine receptacle painted in original colours and decorations, the interior furnished with a Napoleon III single bed with ebonised base and gold fringing, upon which is a silk mattress and silk pillow for Jesus to rest on.
On the floor by his bed is a carved bone Corpus Christi which has damage to the left arm.
Hanging on the inside of the cabinet door are a couple of wax medallions, one of the victorious Lamb of God (agnus Dei) bearing a banner, the other (with damage) possibly of St John the Baptist.
Because it is free resting on the bed, the wax baby has suffered various old breaks and repairs to to left arm and legs while being transported for over many decades but is complete.
Whether this enchanting reliquary was intended for a church, a private chapel or in a home, it has survived almost unimpaired for some 150 years and remains a seriously rare collection piece.
Baby Jesus is 26cm long.
The reliquary box 42cm high, 31.5cm wide and 19cm deep.