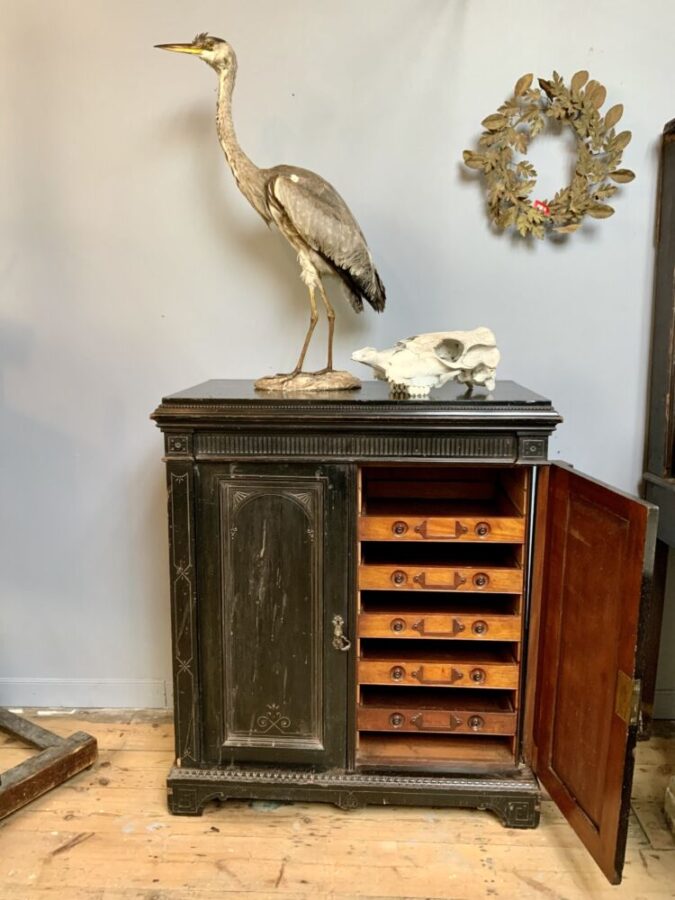 PRICE: £675
HABERDASHERY DRAWERS
An ebonised haberdashery shop cabinet by Lambs of Manchester, circa 1870, the amazing fitted mahogany interior with 10 splendid sliding drawers, each with recessed knobs and extraordinary mahogany label holders in splendid original condition.
Stamped "Lamb Manchester" to one of the door frames.
Lambs were a renowned cabinet making firm which started in the mid-Victorian era. selling high class top quality furniture, and won medals ar the 1862 London exhibition and the 1867 Paris exhibition.
The cabinet itself has suffered surface age related wear and damage to the veneer on the right hand door which would need to be addressed.
However for the purpose of the look alone, the doors could be unhinged to permanently display the fabulous set of drawers, perhaps dressed with a collection of original contents, or a display of another collection of one's choice.
Height 105cm. Width 92cm. Depth 52cm